Advanced Surveillance & GPS Tracking Course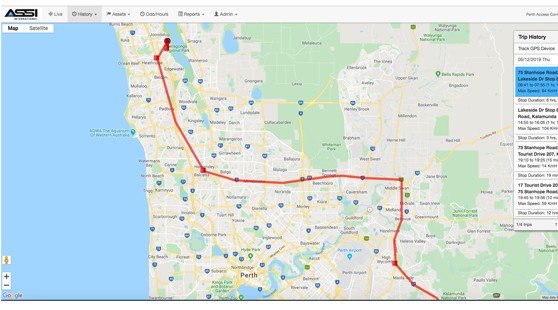 UNIQUE OPPORTUNITY TO EXPAND YOUR INVESTIGATION SKILLS AND EARN AN EXTRA INCOME
Many investigators are well aware that the investigation industry is changing, with new investigation methods and equipment being introduced at a fast rate. Investigators have to constantly keep up with technology and use the latest innovations to increase their business opportunities.
Over the past year ASSI has been redesigning our world renowned Advance Surveillance Course to include the use of our own GPS tracking locators to more effectively manage a team and to identify new business opportunities for investigators to increase their income and workload in a booming new industry, which is only going to grow over time. This opportunity is now available.
Crime, especially theft, is on the increase with business owners frustrated that whilst they take every precaution to secure their businesses and equipment and assets, if they are stolen the only evidence they have is a tripped alarm notification or CCTV video of a hooded thief driving off or carrying away their valuable property. Chances of recovery are slim at the best of times with Police over worked and under resourced and not able to provide the time to work exclusively any one particular crime.
ADVANCED SURVEILLANCE & GPS TRACKING COURSE will train investigators how to lawfully use small battery powered GPS locators to protect, monitor and in the event of a theft, recover valuable assets on behalf of clients and ASSI is already servicing numerous clients therefore we are in no doubt that the demand for this service will far exceed our expectations. The devices, which are about the size of a matchbox, have a battery life of up to 1 year dependent on how they are used and can easily be hidden in machinery, vehicles, equipment and even in clothing and are tracked on a web based map with accuracy within a few meters.
Information available on the monitoring map shows if the device is moving, stopped, how long at a position, the speed it was travelling and many other parameters can be displayed. These devices will also be utilised to manage your own agency surveillance team.
Whilst anyone can purchase GPS devices from the internet, ASSI has identified that most are unreliable, prone to breakdown, no technical support, non compliant with FCC requirements and as you are the importer of the device, if anyone is injured through the use of the device then you as the importer become liable for using a non compliant device.
ASSI's new ADVANCED SURVEILLANCE & GPS TRACKING COURSE has been specifically designed to provide detailed instruction in Advanced Surveillance techniques coupled with instruction on how to setup and manage your own tracking service using fully compliant, approved and ready to go devices that can be installed in assets, vehicle or equipment that need to be protected and located if stolen or misused. The course is fully practical with one morning theory session and the remainder of the four day course instructing on how to setup and maintain the tracking functionality.
This course will open up new income producing opportunities fully supported by ASSI and the advertising promotion we are about to launch. It is limited to 10 persons only.
COURSE SCHEDULE
The ADVANCED SURVEILLANCE & GPS TRACKING COURSE is delivered over a 4 day period between 8.00 am and 5.00 pm, however, an evening exercise may be required.
You must be prepared to spend at least 8 hours a day on the road under mildly stressful conditions and be able to work as part of a multi-discipline team. You will require your own vehicle or share a vehicle with another course participant.
ALL PARTICIPANTS WILL BE PROVIDED WITH THEIR OWN ASSI TrackGPS LOCATOR TO KEEP AND WHICH WILL BE USED DURING THE COURSE. THE DEVICE CAN BE USED TO DEMO TO YOUR CLIENTS AFTER THE COURSE.
This course also meets requirements for the issue of a NATIONALLY ACCREDITED Statement of Attainment for the newly released Unit of Competency CPPINV3033 - Conduct Covert Surveillance Operations from the CPP30619 Certificate III in Investigative Services Course.
Certificates will be awarded to those participants successfully passing the unit of competency requirements.
COURSE CONTENT
DAY 1 - Introduction to Advanced Surveillance Techniques & ASSI TrackGPS Locators
The course outline will be briefly discussed to ensure that all participants fully understand their obligations during the course including the observation to road rules and adherence to OH&S principles and that the installation of any location devices meets the requirements of the various state Surveillance devices Acts
Participants will be introduced the basics of surveillance and GPS tracking with an emphasis on using the ASSI state of the art GPS location system and learning the accepted "Surveillance Speak" Terminology used by almost all professional government surveillance teams.
Participants will be instructed on how to use the new encrypted two-way communications phone apps being utilized by many professional teams and how to communicate effectively and concisely whilst conduct advanced surveillance and tracking an asset and or other team vehicle.
Detailed instruction on how to setup and maintain the ASSI GPS locators including battery and SIM card installation and troubleshooting. Understanding web-based Google™ mapping and IOS and Android phone apps used with the locators; and how to adjust the various parameters on the devices.
DAYS 2 & 3 - Communications and Advance Surveillance Practicals
The day will start at a pre-determined location with an emphasis on team communication and positioning of vehicles prior to the commencement of a surveillance operation. Participants will spend the day taking away target vehicles from a premises and then "boxing" the vehicle on arrival at a destination.
Participants will then be shown the most effective way of installing the locators in vehicles, equipment and assets. Advanced locators will be demonstrated which can be setup to activate alarms and monitor vehicles leaving a property or remote area for more advanced surveillance operations.
The afternoon will be used for practical exercises where ASSI locators will be hidden in various geographical locations and participants will be required to use the learnt advanced surveillance skills to identify the location and then observe the asset/equipment with a view of surveillance the asset/equipment to its destination.
DAY 4 - Major Exercise - Nationally Accredited Certificate Assessments
Participants will be required to setup and commence tracking on Targeted person using a mixture of advanced surveillance techniques and GPS locators and triggers to assist with the monitoring
Participants will attend various locations where they will identify the location of the asset/vehicle and use the various learnt radio protocols to ensure a cohesive team environment is maintained.
The afternoon session concludes with the various business opportunities being discussed about how to promote your own income producing business using the skills learnt on the course and becoming part of the Australian network. We will discuss the rates of income and ongoing costs which I might add are quite minimal for your clients
Participants will join the Australian GPS locator network where clients will be directed to request your services.
THIS COURSE IS LIMITED TO 10 PERSONS ONLY ON A FIRST COME FIRST SERVED BASIS. ALL INSTRUCTIONAL TECHNIQUES WILL MEET THE SURVEILLANCE DEVICES AND OTHER RELATED ACTS LEGISLATION.
Course cost: $ 895